Attention! The race is on with Epic Outrun 2: Make it to Miami now live. A treasure trove of $150,000 in prizes and a cut of $10,000 cash could be yours. Get all the information here and jump into the competition.
Grab a Legendary 350% Deposit Bonus
Epic Outrun: Make it to Miami is hotter than ever! Especially now we've decided to turn the heat up to the max with a sizzling new bonus. Enter the special code EPIC350 at Slots of Vegas Casino, CryptoLoko Casino, and Dreams Casino on your next deposit, and you'll get a whopping 350% bonus boost. That's not a typo! Deposit $100, and play with $450, it's as straightforward as that.
Check your email regularly too! We'll be forwarding all the details about this unique offer to players, plus more tantalizing bonuses we have lined up. Trust us, there is a whole lot more like this deal on the way, as Epic Outrun: Make it to Miami powers past the halfway point.
Unlock Epic Outrun Rewards with Code EPIC350
After powering up with your hefty bonus, it's time to traverse the digital highways of our neon-lit map. Epic Outrun is an exhilarating trip from the neon glow of Las Vegas, passing through famed US locations, ending at the radiant beaches of Miami.
Need a quick cheat sheet? If you haven't hit the road in Epic Outrun: Make it to Miami yet, here's everything you need to know about the biggest casino promotion of the summer.
Pedal to the Metal: Navigate through 21 levels of story-driven progression, starting from the arid terrains of Nevada and culminating at the bustling beaches of Miami.
Iconic Spots: Journey through the dazzling sites of Las Vegas like the MGM Grand Hotel and speed through cities like Dallas and Orlando. Each destination boasts exclusive rewards.
Exploration Challenges: Engage in unique tasks centered around famous landmarks such as the Statue of Liberty, bringing extra rewards and a dash of magic to your quest.
Grand Rewards: From a 2022 Chevrolet Corvette to the Ultimate Miami VIP Experience, big time treasures beckon at every stage.
X Marks the Spot
Don't forget to follow Coindraw's X page! We'll surprise you with bonus Side Quests and Level Boosts on our social platforms. Enhance your journey and elevate your gameplay by staying in the loop.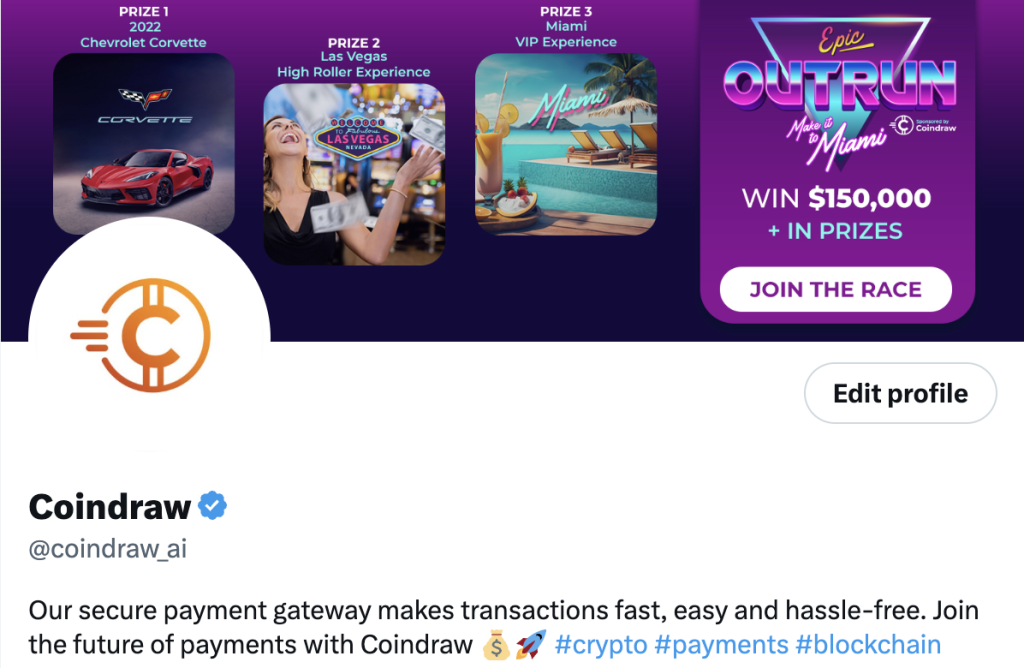 Join the Epic Outrun Action!
It's time to refuel and rack up more prizes! Armed with a massive 350% matched deposit bonus and an adventure brimming with discoveries, rewards, and exciting side quests, the path to Miami appears irresistible. Get ready, apply the code EPIC350 to your next deposit at Slots of Vegas Casino, CryptoLoko Casino, or Dreams Casino and get ready to experience everything Epic Outrun: Make it to Miami has to offer!