Grab Your 200% Matched Deposit Bonus
Summer is heating up, and so is the action in Epic Outrun: Make it to Miami. As the season of sizzling offers sets in, we're thrilled to announce our latest blockbuster deal – a 200% matched deposit bonus exclusively for players our Epic Outrun casino partners. Head to Slots of Vegas Casino, CryptoLoko Casino, and Dreams Casino., use code EPIC200 to grab your super special offer!
Read on to discover more deets on everything Epic Outrun: Make it to Miami!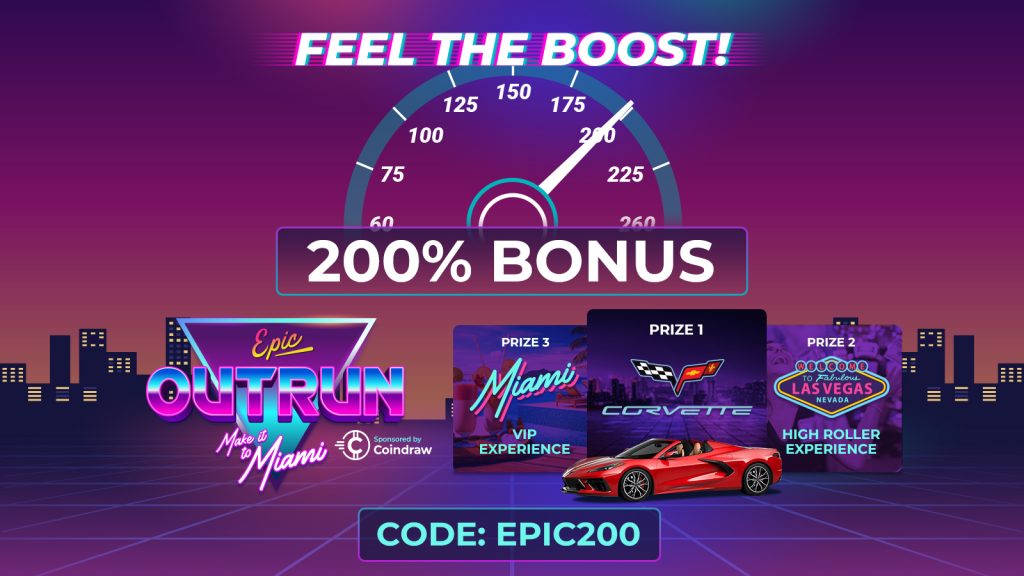 Unlock Epic Rewards with Code EPIC200
To kick start your gaming journey, we're handing you a golden key. Use the exclusive code EPIC200 when you deposit, and watch your funds skyrocket with our 200% matched deposit bonus. Yes, you read that right! Deposit $100, and play with $300; it's that simple.
Keep an eye on your email inbox! We'll be sending all the details about this exclusive offer to players, along with all other bonus we have in store.
Journey Through "Epic Outrun: Make it to Miami"
Once you've loaded up on your bonus, it's time to hit the virtual roads. Epic Outrun: Make it to Miami is more than just a game; it's an experience, a thrilling journey that takes you from the bright lights of Las Vegas, through iconic US landmarks, all the way to the sun-kissed beaches of Miami.
Key Highlights:
• Adventure Awaits: With 21 levels of progression-based adventure, embark on a journey from the desert landscapes of Nevada to the vibrant Miami shores.
• Notable Landmarks: Travel through Las Vegas's iconic spots like the MGM Grand Hotel, then make your way through cities like Dallas and Orlando, with each stop offering exclusive prizes.
• Side Quests: Dive into fun-packed challenges centred around landmarks like the Statue of Liberty. These offer additional rewards and a sprinkle of charm to your journey.
• Massive Prizes: From a 2022 Chevrolet Corvette to a Las Vegas High Roller Experience and a Miami VIP Experience, enormous rewards are waiting at every turn.
Stay Social and Boost Your Progress
Be sure to follow Coindraw's social media pages! Coindraw is gifting you with extra Side Quests on our social channels. Boost your progress and take your gaming experience up a notch by staying connected.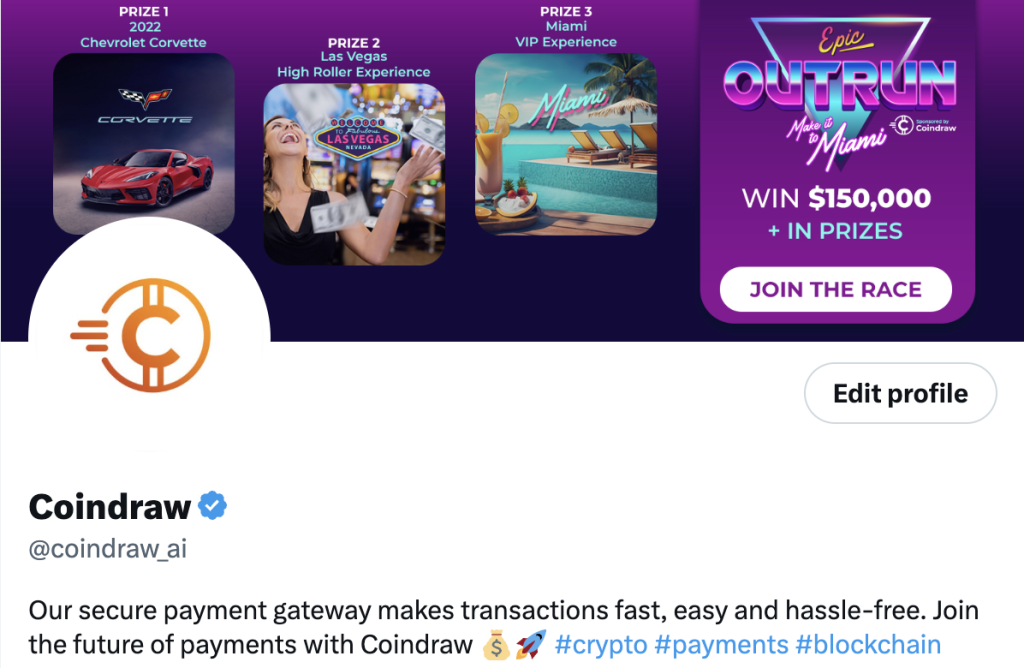 Ready, Set, Play!
With a whopping 200% matched deposit bonus and a journey filled with surprises, rewards, and thrilling challenges, the road to Miami has never looked this enticing. Gear up, use code EPIC200, and dive into the adventure waiting at Vegas Casino, CryptoLoko Casino, and Dreams Casino.
Remember, the journey of a lifetime awaits. Make your play, embrace the challenge, and let the games begin!